Nurseries & Schools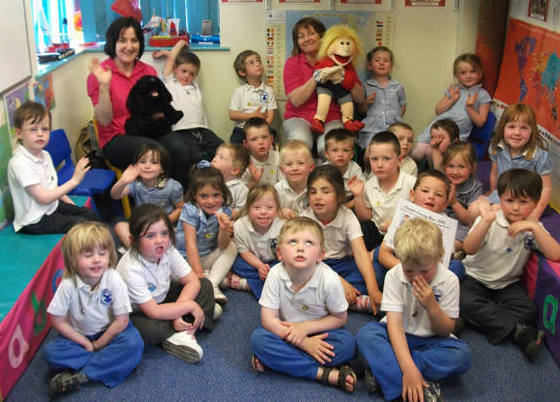 Sign2Music is a popular activity for nurseries and childcare settings. You can welcome us for weekly, monthly or one off themed sessions (eg, Christmas, Easter, Teddy Bears Picnic) or you may prefer to train your staff team to introduce signing to your setting.
We also facilitates sessions in schools, playgroups and preschools. Signing is increasingly popular in schools and preschools throughout the UK, as it supports communication and literacy skills and increases confidence in children. It can also support staff in behaviour management, reducing challenging behaviour.
Benefits
Signing can bring huge benefits to your nursery, school or preschool and the children in your care:
Introduces your staff and children to new fun songs and activities that you can use every day.

It offers your nursery, school or preschool a competitive edge as you offer something that few other settings offer. It will make you the first option for the many families who bring their children to Sign2Music classes and sign with them at home.

Reduces frustration in preverbal children who are enabled to tell their carers what they want and need.

Enhances communication skills and social skills.

Helps children with communication difficulties, learning difficulties and speech delay.

Builds children's confidence and self esteem.

Can help manage behaviour and reduce challenging behaviour.

Because it is multisensory, signing helps children grasp complex ideas, such as colours, and numbers. Fingerspelling can help children learn about letters and sounds improve early literacy.

Enhances physical, emotional and cognitive development.

Supports children for whom English is an additional language.

Supports emotional well-being, helping children express their emotions.

Enhanced communication supports relationships among children and between children and staff.

Complements the Areas of Learning highlighted in the NI Preschool and Foundation Stage Curriculum and introduces children to a second language that is actively used within Northern Ireland.
What we offer:
Regular Sign and Sing sessions are fun activity sessions, lasting 30 - 45 mins and can focus on a topic of your choice. Sessions include music, puppets, signing, singing, stories, bubbles and nursery rhymes. We can also use a parachute if you wish. You can book a block of weekly sessions, monthly sessions or occasional sessions (for Christmas, Easter, Teddy Bears Picnic, open day, etc). If you book for a number of rooms consecutively we may be able to offer you a discount.
Themed sessions focus on seasonal or curriculum linked topics (eg, people who help us, colours, Christmas). These can be occassional or regular.
Sessions for assembly or other events like Christmas / Easter parties. These sessions can be tailored to your requirements
Staff training

to support your staff to incorporate signing into your daily activities and/or facilitate regular signed sessions for the children you care for.
Sign2Music Affiliated Nurseries, Schools & Preschools
Staff in the following nurseries, schools, playgroups preschools have been trained by Sign 2 Music and use signs in their setting:
Atlas Women's Centre Creche
7 Bachelors Walk, Lisburn, BT281XJ
Tel: 028 92685006
Website: www.atlaswomenscentre.co.uk


Chatterbox Private Day Care Nursery
75 Bryansford Road, Newcastle, Co Down, BT33 0LE
Tel: 028 4372 5805
Email: info@chatterboxkids.co.uk
Website: http://www.chatterboxkids.co.uk
Dundrum Cross Community Playgroup
27, Main Street, Dundrum, BT33 0LU
Tel: 028 4375 1688
Email: dundrumplaygroup@hotmail.com
Footprints Women's Centre
84A Colinmill, Dunmurry, Belfast, BT170AR
Tel: 02890923444
Email: enquiries@footprintswomenscentre.org
Website: http://www.footprintswomenscentre.org/
Happy Children Day Nursery
48 Main St, Ballynahinch
BT24 8DN
Tel: 028 97560906
E-mail: hello@happychildrendaynursery.com
Website: http://www.happydaysdaynursery.com
Happy Days Day Nursery Comber
48 Castle Lane, Comber
Tel: 028 9187 1737
E-mail: Christine@happydaysdaynursery.com
Website: http://www.happydaysdaynursery.com
Happy Days Day Nursery Conlig
71 Main St, Conlig
Tel: 028 9147 2895
E-mail: Christine@happydaysdaynursery.com
Website: http://www.happydaysdaynursery.com
Happy Days Day Nursery Donaghadee
27a, Newtownards rd, Donaghadee
Tel: 028 9188 9440
E-mail: Christine@happydaysdaynursery.com
Website: http://www.happydaysdaynursery.com
Happy Days Day Nursery Newtownards
119 Frances St, Newtownards
Tel: 028 9182 2339
E-mail: Christine@happydaysdaynursery.com
Website: http://www.happydaysdaynursery.com
Dolly Dimples Daycare
Unit 38, Townsend Enterprise Park, 28 Townsend Street, Belfast, County Antrim, BT13 2ES
Tel: 02890434623
E-mail: dollydimplesdaycare@yahoo.co.uk
Website: http://www.dollydimplesdaycare.co.uk
Happy Children Day Nursery
Tel: 028 9756 0906
Email: hello@happychildrendaynursery.com
Website: http://www.happychildrendaynursery.com/
Hart Memorial Primary School, Nursery Unit
Charles Street, Craigavon, Armagh BT62 4BD
Tel: 028 3833 2817
Email: info@hartmemorial.portadown.ni.sch.uk
Website: http://www.hartmemorial.org.uk
Petals Daycare, Windsor Women's Centre
136-144 Broadway, Belfast BT12 6HY
Tel: 02890235451
Email: windsorwomans@yahoo.co.uk
Website: http://www.windsorwomenscentre.com/
Rascals Day Nursery
121A Circular Road, Belfast BT4 2GE
Tel: 028 90761333
Email: reception@rascalsdaynurseries.com
Website: http://www.rascalsdaynurseries.com
Rascals Day Nursery
1 Summer Meadows Manor, Londonderry BT47 6SE
Tel: 028 7134 7352
Email: reception@rascalsdaynurseries.com
Website: http://www.rascalsdaynurseries.com
Rascals Day Nursery
591 Doagh Rd, Newtownabbey BT36 5RZ
Tel: 028 9034 2600
Email: reception@rascalsdaynurseries.com
Website: http://www.rascalsdaynurseries.com
Start Smart Day Care
72 Rockmore Road, Belfast, BT12 7PD
Tel: 028 90248258
Email: info@startsmartdaycare.co.uk
Website: http://www.startsmartdaycare.co.uk/
If you have completed the Signing4Childcare Training and would like to complete an evaluation you can do so here